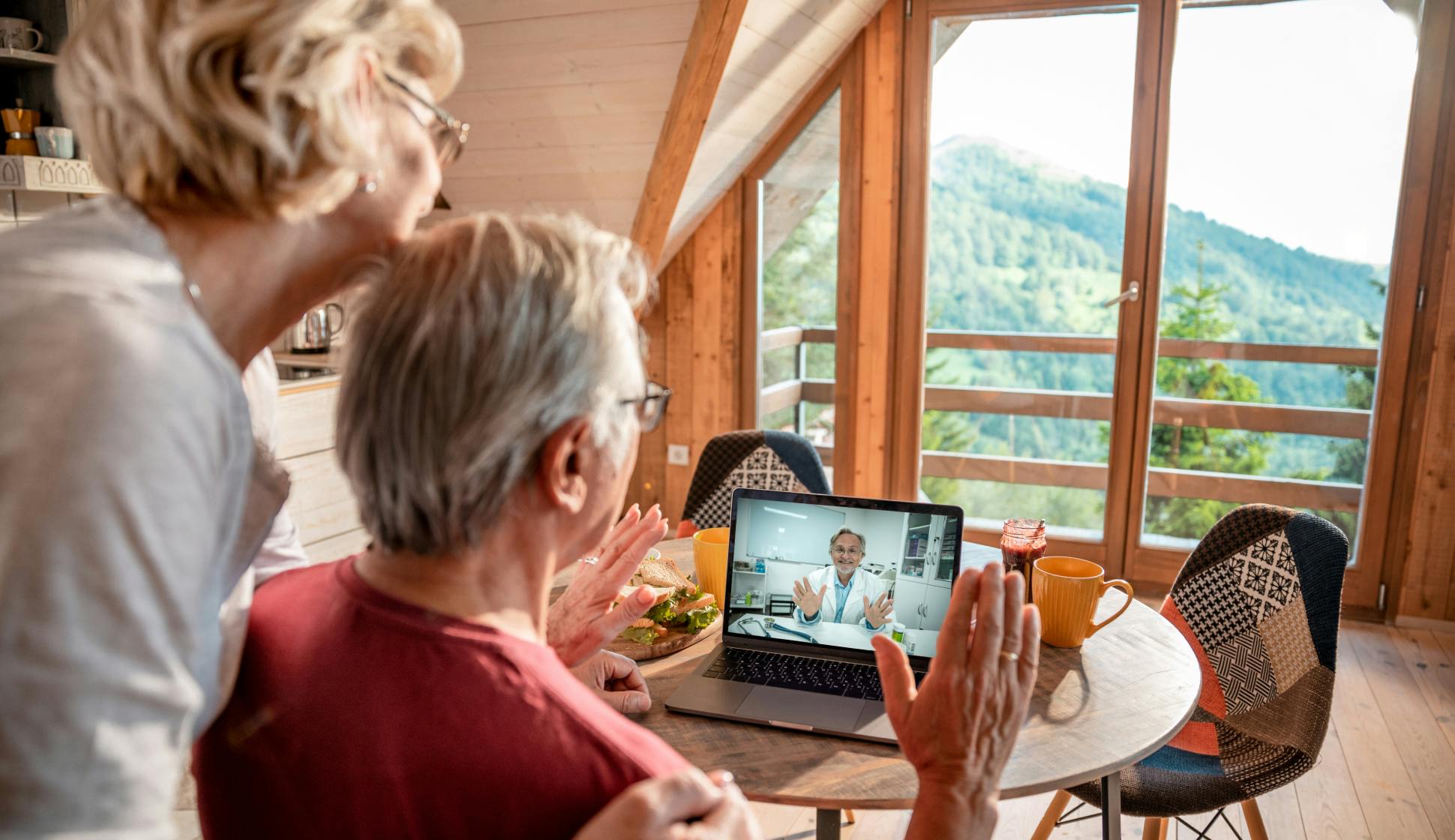 Doxy.me researchers examined internal data to find out which states used telehealth the most in 2021. Then, after looking at the numbers, we tried to figure out why the states ranked where they did. How does your state stack up?
States with most total telehealth calls 2021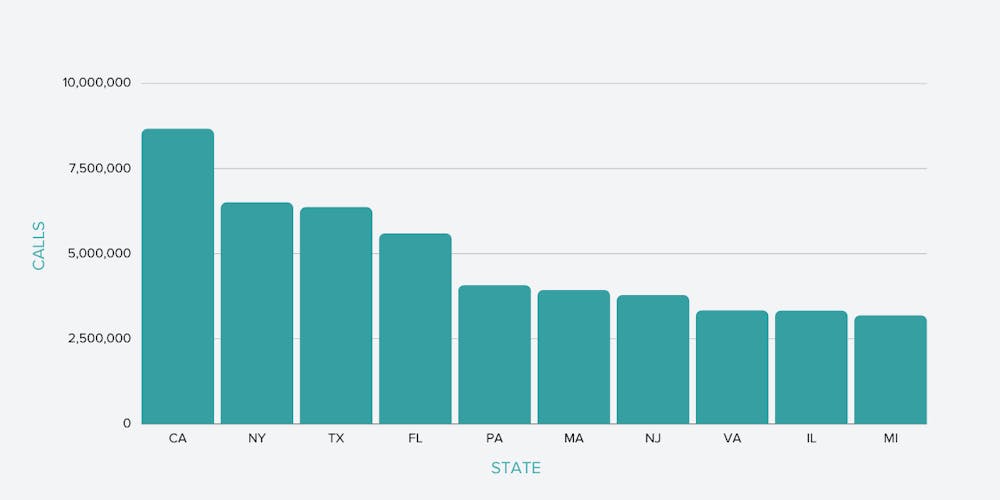 California was at the top with just over 8,000,000 calls, while Michigan notched over 3,000,000 calls in the tenth spot. These numbers aren't surprising at all: seven of the top ten states-by-calls also fall into the top ten most populated states. The three states not in the top ten were Massachusetts (16th in population size), New Jersey (11th), and Virginia (12th). So, to make things more interesting, we looked at the top ten (and bottom ten) states by calls per capita.
States with most and fewest telehealth calls per capita 2021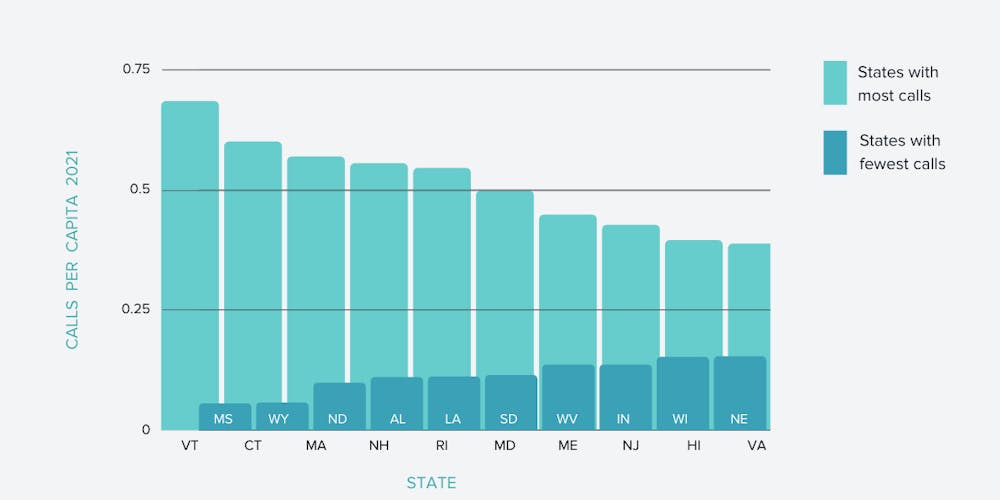 Vermont takes the top spot with a massive 0.683 calls per capita. On the opposite end, Mississippi only had 0.055 calls per capita. So what's the difference between these two states when it comes to practicing telehealth? To find out why some states hosted so many more calls than others, we looked at a few different variables.
State policy effect on telehealth usage
The top ten
As of November 2021, seven of the top ten states in calls per capita have legislation supported by the American Telemed Association (ATA). Check out the ATA's state policy tracker at their website.
Surprisingly, the three states that don't are Vermont, Massachusetts, and New Hampshire: three of the top four on the list. Why might that be?
Vermont: has full service and payment parity, though the payment parity is set to be repealed in 2026.
Massachusetts: only has full payment parity for behavioral health services.
New Hampshire: has both payment and service parity.
This information taken from the Center for Connected Health Policy (CCHP).
What do we mean by service and payment parity? Parity laws legally require private insurers to cover and reimburse telehealth services as if they were performed in-person. Service parity means an insured face-to-face service performed over telehealth must also be insured. Payment parity means the two services must be reimbursed equally. (Important note: many private payers reimburse for telehealth services anyway, even when not legally required.)
What this means is all of the states in the top ten have substantial telehealth parity laws, including Massachusetts, even though its laws only cover behavioral health. After all, the top three classifications of doxy.me providers (by number of users) fall into the behavioral health category: counselors, social workers, and psychologists.
The bottom ten
Of the ten states at the bottom of calls per capita, only four of them have ATA-supported legislation: North Dakota, Louisiana, South Dakota, and Indiana. Of the six states without ATA-supported legislation, three of them have no payment parity for telehealth: Alabama, Mississippi, and Wyoming. The other three have different forms of limited parity: West Virginia, Louisiana, and Wisconsin.
This disparity between the policies of the top ten and bottom ten states paints a clear picture. Telehealth parity laws make a huge difference in the amount of telehealth practiced.
Rurality effect on telehealth usage
Many organizations and providers consider telehealth a sort of equalizer for rural patients. Telemedicine cuts down travel times and costs, and makes it easier for patients in rural areas to see their healthcare providers. According to the most recent urban/rural census data, last collected in the decennial census from 2010, seven of the top ten most rural states (by percentage of population living in rural areas) appeared on one of these lists. The two most rural states, Maine and Vermont, were at the top of the calls per capita list. However, North Dakota, South Dakota, Alabama, Mississippi, and West Virginia all landed on the list of lowest calls per capita.
Maine and Vermont show that telehealth has great potential to succeed in rural areas. Remember that these two states currently have excellent parity laws. However, Alabama, Mississippi, and West Virginia have some of the worst parity laws at the time of writing this article. These findings show telehealth has great potential to succeed in rural areas, but only if supported by the proper legislation.
Median household income effect on telehealth usage
Top ten calls per capita states-$76,775
Bottom ten calls per capita states- $57,156
The top ten states in calls per capita have a median household income almost $20,000 higher than the bottom ten states in calls per capita. Furthermore, the four states with the highest household income were in the top calls per capita list, while four of the five states with the lowest household income were in the bottom ten of the calls per capita list. These findings show a distinct inequity between the United States' highest and lowest earners when it comes to receiving care through telehealth.
Why might low income households have a harder time receiving care through telehealth? Low income households are less likely to be able to afford private health insurance. Without private health insurance, these households may be unable to pay for healthcare visits, regardless of telehealth or in-person care.
Furthermore, low income and rural areas often have less access to good broadband. Broadband is one of the biggest remaining barriers for telehealth to overcome, as weak broadband causes problems like poor call quality and dropped calls. There are many organizations around the country trying to fight broadband inequity in different ways: companies like Palmetto Care Connections in South Carolina and Telehealth Van in California.
Check out these two episodes of the Telehealth Heroes Podcast to learn more about these amazing companies: "Bringing Broadband and Telehealth To Rural South Carolina with Kathy Schwarting" and "Delivering Healthcare to your Door with Telehealth Van and Dion Rambo."
What this all means
At the state level, we've learned that parity laws and median household income both have a positive correlation with number of telehealth calls made. One of the principles doxy.me was founded upon is "cost shouldn't be a barrier to telemedicine." That's why doxy.me is free for providers and always will be.
However, we can't overcome the price barrier to telehealthcare by ourselves. Without legislation changes that both improve telehealth parity and include Medicaid coverage to support low-income families, access to affordable telehealthcare will never reach its full potential in the United States. Consider joining the Physician's Grassroots Network to advocate for policy change around the country.