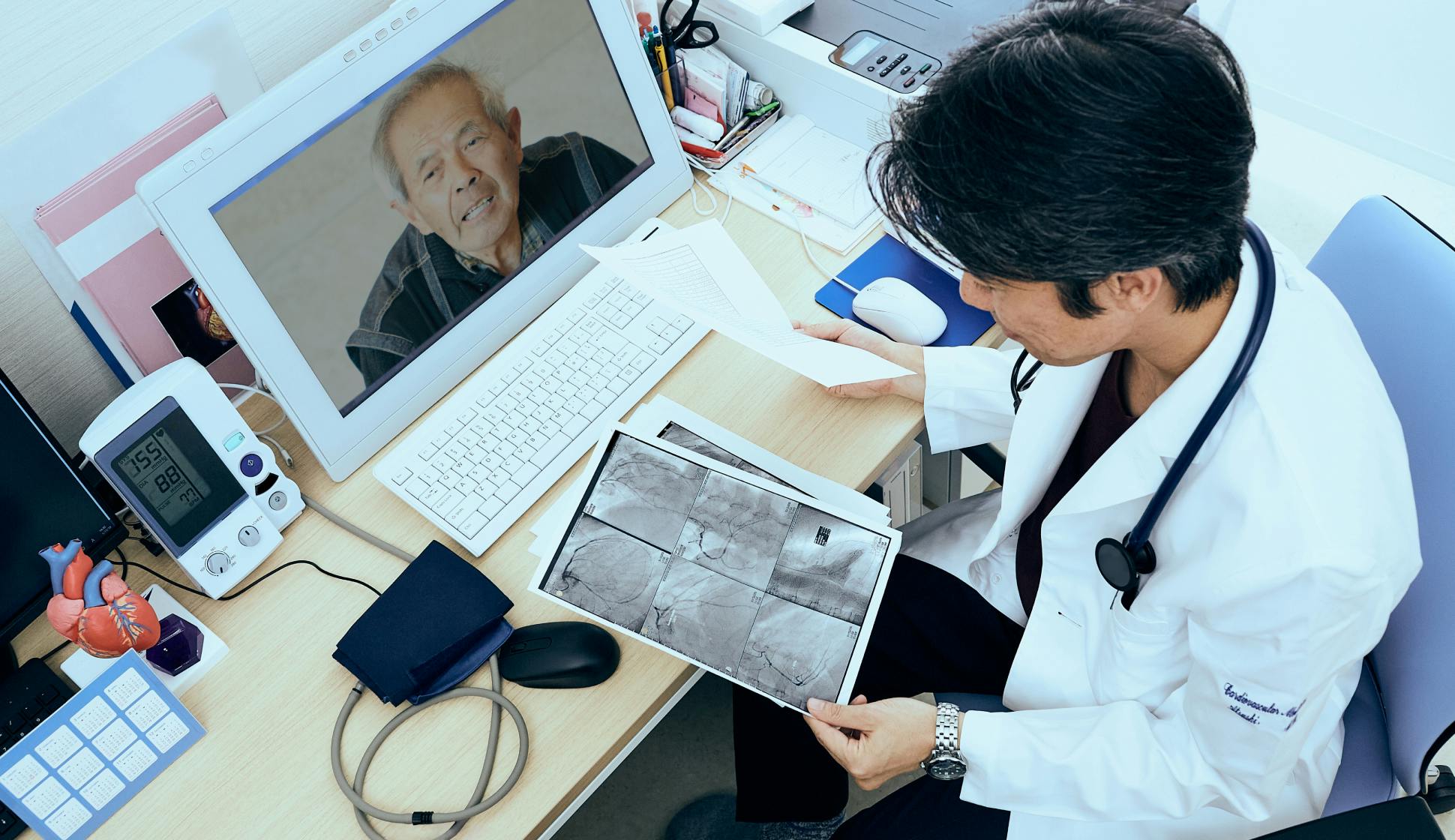 Are you a beginner thinking about trying telemedicine for the first time? Or, if you've been using telemedicine technology for a while, do you want to figure out how to improve the quality of your calls and achieve better patient outcomes?
If your answer to either of those questions is yes, you'll want to read this blog post. In it, you'll learn how to go from a complete beginner to an intermediate user in less than ten minutes for FREE. Furthermore, I will also show you what it means to be a telehealth expert, and how you can improve your patient outcomes over telehealth calls.
But first, let's go over what the different levels of expertise are in the world of telemedicine.
The different levels of telemedicine users
Beginner: the telemed student
You are a beginner if you've never made a telehealth call before as the provider. You probably have a lot of questions about telehealth, but you're probably most concerned by these things:
Is the technology complicated?
How expensive is it?
How can I integrate it into my practice?
Intermediate: the licensed teleprofessional
An intermediate-level telemedicine user has a platform, has had a call, and knows how to use their tools. They know where to find answers to common questions and how to resolve common issues on their own.
Expert: the telemaster
A telemaster has made many telemedicine calls. They rarely run into support issues anymore, and have even picked up a few tricks that improve things like patient engagement during calls. They use the full array of tools in their platform's arsenal to make the most of every call.
Become an intermediate user in ten minutes for free
If you've never used a telemedicine platform before, it probably feels like a Herculean task. You have to find the right platform, you have to jump through all the hoops and ladders of getting signed up, you need to figure out how to use the technology AND how you're going to integrate the technology into your practice.
But what if I told you it doesn't need to be so complicated? In fact, you could be signed up, learn how to use all the most important tools, and have your first call in only ten minutes without having to pay a cent. Here are the steps you need to follow.
1. Sign up for a free doxy.me account (2 minutes)
This account is free and stays free forever. No credit card information is required. How to sign up for doxy.me.
2. Have your first call (1 minute)
After signing up, you need to have a call. Visit your own doxy.me page as a patient (or have a friend or colleague do this part). This will teach you how a call works for you as a provider, and also how it looks to your patients. How to start a call.
3. Learn your virtual waiting room (3 minutes)
Then it's time to play around with the platform and learn what tools it has to offer. How much you learn about the platform can determine whether or not you're a telemaster or just a teleprofessional. The best place to get started is here: General features overview.
4. The knowledge you need to actually start practicing telemedicine (4 minutes)
At this point, you're basically already a licensed teleprofessional. However, if you want to actually introduce telemedicine to your practice, there are still a few more things you need to do. This help article tells you exactly what information you need to begin practicing telemedicine, from setting patient expectations to Medicare CPT codes.
How to have the best telemedicine calls
If you've already become a licensed teleprofessional, what's stopping you from becoming a full-fledged telemaster? Sure, it'll take longer than ten minutes, but I've tried to make it as easy as possible. That's why I consolidated the most important resources to master telemedicine right here. If you combine the knowledge from these resources with personal experience, your telemedicine calls will improve and you'll see improved outcomes for your patients.
Most common troubleshooting solutions
One of our top customer success specialists, Kennedy, told me three of the most common issues providers have on a call—and how to fix them.
Patient isn't using a supported web browser. The supported web browsers for doxy.me are Google Chrome, Firefox, Microsoft Edge, the Samsung mobile browser, and Safari (for iOS devices). You can see what browser your patient is on by looking at their information in the patient queue. Just click the three dots next to their name, demonstrated in this photo.
The connection seems unusually bad. With teleconferencing technology, many factors can affect the connection. Sometimes the simplest way to improve a bad connection is just to restart the call. Give it a try and see if it works for you.
Patient's audio and video aren't working. This problem usually occurs when patients haven't given permission to doxy.me to use their camera and microphone. Patients are usually prompted by their browser to allow doxy.me to use the camera and microphone, but if this doesn't happen, these help articles explain how to remedy this problem.
However, if you ever run into any other problems, don't be afraid to contact doxy.me support directly via the HELP button in your waiting room.
Improving patient outcomes and the patient experience
Over time, we've created several different resources on how to have the best calls possible: for both you and your patients. While you grow as a telemedicine practitioner, you're sure to pick up some tricks of your own, but here are some great resources to get you started.
Getting the most out of your telehealth features
Learning the different features available to you through your telemedicine platform can make a big difference. For example, in the Professional or higher subscriptions of doxy.me, you unlock text message invites and screen sharing. There are a lot of powerful tools that can help you in a telemedicine call, and we have even more features in development. Look forward to those soon!
In the meantime, here are some helpful pieces of content that can teach you more about the premium telemedicine features and how to make the most of them.
If you see a premium feature that you like and want to implement into your telemedicine calls, the only way to do it is to sign up for a doxy.me pro account. Get started today to improve the healthcare experience for you and your patients.