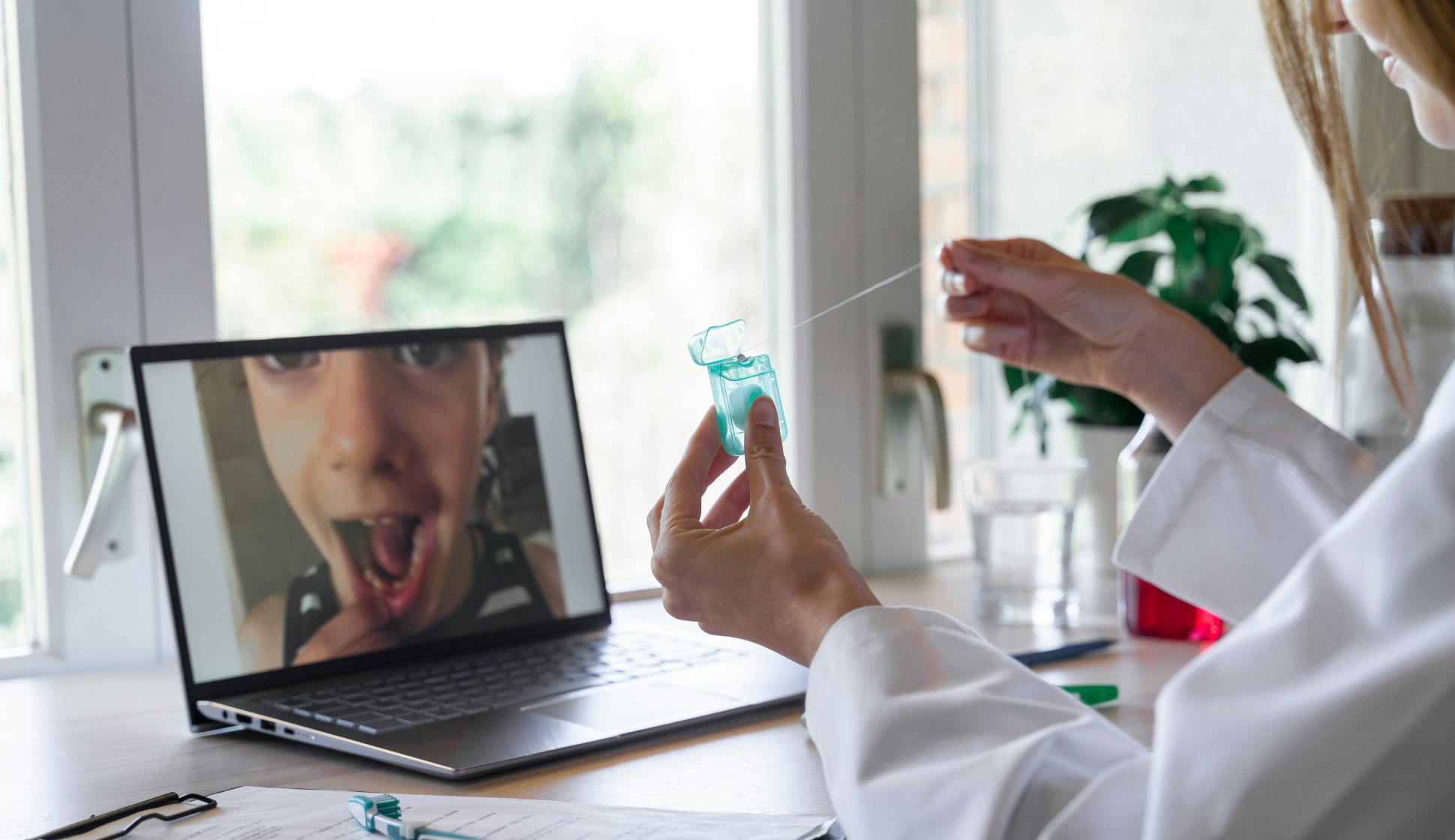 As we all know, there's been a shift in healthcare toward telemedicine. You're most likely aware of teledentistry, and you might even offer it as a service in your office. If you're not sure whether this is an option for you, this guide will thoroughly explain what teledentistry is and how it benefits both dental practices and patients.
We'll also outline several use cases and give you some guidance on checking on your local regulations to ensure you're in compliance with state laws.
But first, what is teledentistry?
It might sound like a new "technical" term, but the truth is that teledentistry has been around since the invention of the telephone. If you've advised a patient or prescribed medication over the phone, you've practiced teledentistry. The 21st century has expanded the range of telehealth services, and a variety of teledentistry companies have launched to help dentists provide virtual care to their patients.
The American Dental Association defines teledentistry as a way for dentists to provide patient care and education via a remote platform. This care can be delivered via:
Telephone calls and text messages
Email
Video conferencing
Remote monitoring
Asynchronous transmission (aka store and forward) of health information and records to medical practitioners
Thanks to ubiquitous high-speed Internet, a population that is becoming increasingly tech-savvy, a desire for time-saving conveniences, and of course, COVID-19, remote diagnosis and treatment methods are more popular than ever. When the pandemic that closed many non-essential offices and prohibited non-emergency care, telemedicine became a sole option for many healthcare professionals, and teledentistry jobs for dentists are expected to rise in the coming years.
Benefits of teledentistry for patients
Despite the inability to perform hands-on dental care, there are still substantial benefits to teledentistry:

Economics
In-person visits may be more costly than a virtual consultation. Further, they require little to no travel time or transportation expense, making them a cost-effective alternative to in-person appointments.

Convenience
Travel time to and from the dentist and sitting in waiting rooms and exam rooms can be time-consuming! According to information from the American Teledentistry Association, the average appointment time can cost an employee several hours out of their day, even though the average time seeing the doctor is only about 20 minutes.

Immediacy
Trying to book an appointment in a dental office can take weeks or months. With a virtual visit, scheduling health care becomes easier, allowing for more immediate appointments.

Safety
Recent concerns about COVID-19 have made it more desirable to limit face-to-face interactions between dentists, dental hygienists, staff, and patients. A virtual appointment can avoid unnecessary visits while also minimizing the overall amount of time that there is a risk of exposure in the office.

Rural access
Rural areas are historically underserved by medical professionals. With telehealth options, distance doesn't matter.

Access to specialists
Finding a specialist can be a challenge, and often they're not conveniently located. With teledentistry, a patient can see a specialist virtually and not have to worry about making a long, inconvenient trip or waiting months.
Benefits of teledentistry for dentists
Teledentistry is a win-win, with dentists also being able to take advantage of several benefits:

Reduced chair times
Virtual visits allow you to treat more oral health patients per day. The potential result is increased revenue and capacity to accept new clients.

Shared expertise
Get second opinions and specialized information and recommendations from other professionals in your network in real time. This could include both dental specialists and integrated healthcare providers.

Expanded patient radius
Being able to connect with patients in distant locales can increase your reach and the overall number of patients in your practice.

Outreach
As a telehealth provider, you can participate in mobile health clinics for schools and underprivileged areas, increasing your social contribution and getting care to those in need.
Teledentistry use cases
There are numerous ways to serve patients virtually, which allows you to focus in-person visits on emergency and hands-on care.
Diagnose problems and provide an e-script for an antibiotic or non-narcotic pain medication. This can be done via either a phone consultation or video screen diagnosis.
Evaluate a case to determine if an in-person appointment is necessary. This allows you to triage patients and keep your waiting room open.
Provide information and guidance about oral care to improve a current condition or prevent one from happening. For patients that are scared to go to the dentist or have been putting off an appointment, this method can help ease them into a treatment plan.
Provide second opinions. Patients no longer have to go from office to office to hear from other dentists. Records, x-rays, and other relevant information can be shared digitally for virtual consults.
Get recommendations for routine care and oral health products. Instead of requiring an in-person visit, a dentist could examine the mouth virtually and make recommendations based on visual findings.
Patients who visit the ER can be connected with a dentist instead of being sent home by the doctor who has limited oral health experience. Often, people are quick to visit the ER for tooth pain, even though hospital doctors are ill-equipped to treat oral conditions.
However, by connecting the patient with a dentist virtually, ER doctors and dentists can collaborate on emergency treatment.
What states allow teledentistry?
Currently, the field of teledentistry is regulated at the state level. As a result, the rules vary depending on where you practice. In some states, including Texas, dentists cannot legally provide these services. According to Rule 108.8(c)(2)(C), Texas legal statute requires "documentation of the findings of a tactile and visual examination of the soft and hard tissues of the oral cavity." Many states have not passed any formal laws around teledentistry, and there might also be local regulations about treating patients across state lines (even if it's only digitally). To ensure that you're in compliance with the law, make sure you check with your state's dental board and your local public health department before adopting teledentistry in your practice.
The bottom line
The last several years have shown a rise in the adoption of teledentistry among health care professionals and patients alike. It's estimated that about 70% of patients are comfortable with text, email, or video as a modality of seeing their healthcare providers, and this number has nowhere to go but up. We expect this dental care trend to continue and evolve. By adding this service to your practice now, you can keep up with innovations and be on the cutting edge of virtual dental care.