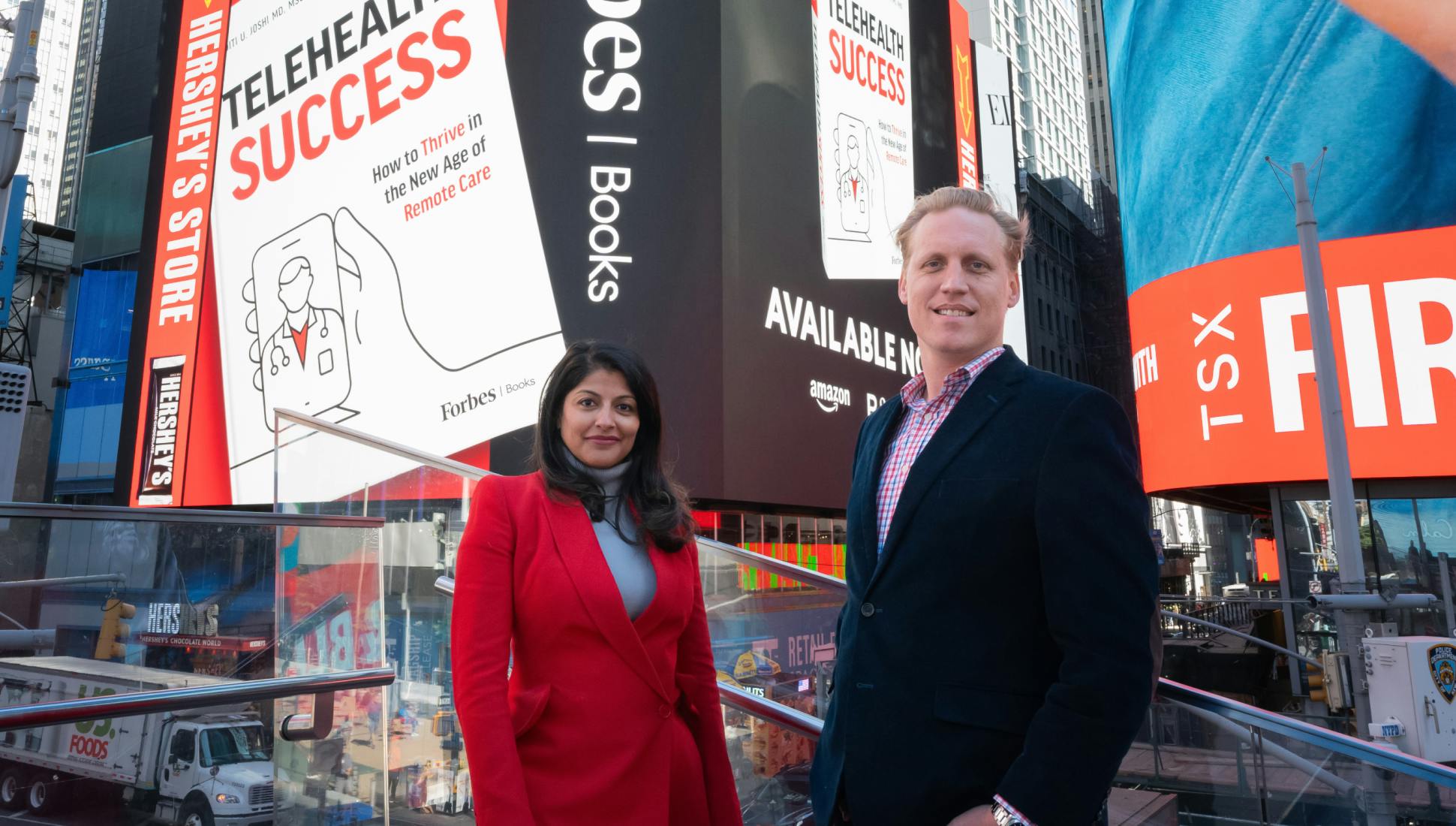 Despite the noise of traffic and the bustling of Times Square, the three-story image of Telehealth Success: How to Thrive in the New Age of Remote Care is hard to ignore. In the middle of this busy intersection, the book's co-authors, Dr. Brandon M. Welch, and Dr. Aditi U. Joshi, excitedly share why they decided to write this book—and how they hope it will improve the lives of healthcare providers and patients. 
This blog gives you an insider's look into that very conversation.
Why a book? 
Dr. Joshi and Dr. Welch had years of telehealth experience before COVID-19 hit. But with the influx of sudden telehealth usage from the pandemic, they have seen telehealth programs that are inefficient and frustrating—for both patients and providers. 
"There are a lot of opportunities to improve efficiencies and gains to be made if we just explain certain things that could be done," said Dr. Welch. "We prove over and over in the book that the most simple solutions for telehealth often turn out to be the best."
And, at the end of the day, Dr. Joshi reminds readers that telehealth success is "much less about the tech than the pathways of protocols and how you're actually accessing patient care."
Healthcare's more equitable future 
For Dr. Joshi and Dr. Welch, the future of healthcare is filled with possibilities. Utilizing telehealth effectively means that care can be more readily available to historically underserved groups. 
Dr. Joshi understands that telehealth doesn't immediately solve all accessibility issues. She asks the question, "How do we make sure that even more patients have access to care because of telehealth?"
The book answers this question by showcasing use cases where clinics have combined telehealth with other forms of healthcare delivery to bridge technology and resource gaps.
Five pillars of telehealth success
So, what does a successful telehealth program involve? The book breaks it down into five essential categories:
Patient success: Patients need to receive the quality of care they desire, in the way they prefer.
Clinician success: Clinicians and organizations need to provide quality care in a way that works for them.
Technology success: Telehealth technology must work well and be easy to use.
Financial success: Clinicians, payers, and patients need to benefit financially from using telehealth.
Compliance success: Clinicians need to stay out of legal trouble and use healthcare laws and regulations to their advantage.
With this framework in place, healthcare professionals can grow a telehealth program that fits their specialty's specific needs.
"This book is going to give you the framework to look at things from a high level," said Dr. Joshi. "You have the tools to make any program even bigger than when you started."
The five pillars of Telehealth Success draw on hundreds of sources of quantitative and qualitative research. With research that covers many types of telehealth programs, the framework can be applied to many different use cases and specialties.
Telehealth stories 
Telehealth Success shares statistics, current regulations, and real-world experiences. It also shares personal stories and insights learned from trial and error. 
"I'm a physician, and I've seen 25,000 patients on telemedicine," said Dr. Joshi. "It felt very cathartic to share patients' stories. I hope people want to help these patients as much as we think telehealth will in the future."
This book includes dozens of stories from telehealth patients and healthcare providers. Here's a sneak peek into a few of them: 
Patient success: one woman gets support to manage her diabetes
A homeless woman with uncontrolled diabetes and substance use had repeat emergency room visits. She began receiving holistic care through Pair Team, a telehealth company. Through telehealth, she was able to make repeat appointments and began managing her diabetes and overall health, showcasing the transformative impact of telehealth in delivering patient-centered care.
Clinician success: Dr. Joshi's personal experience
Dr. Joshi shared how after only four years of working as an attending physician in an emergency department, she found herself burnt out. She was considering a career change when she discovered telehealth. With telehealth, she was able to make an impact on patients' lives in a way that also allowed for a healthy work-life balance. 
Technology success: how to create convenient workflows
Dr. Welch shared how he addressed a clinic administrator's concerns about the inconvenience of separate telehealth and EHR platforms. Providers didn't like having to log in to a separate platform, and they wanted to be able to see their EHR during patient calls. Even without a formal software integration, Dr. Welch showed how to create a feasible workflow to streamline the process and meet providers' needs. Some of these solutions included adding a button that could launch an EHR from doxy.me's platform and enabling single sign-on to make logging into both platforms a quick process.
Financial success: a Bangladesh healthcare clinic sets a global example 
Sylvana Q. Sinha overcame resource limitations in Bangladesh by leveraging telehealth to build Praava Health. Focusing on cost-effective solutions, her hybrid model combined telehealth with in-clinic services. This clinic achieved a 60+ percent gross margin, helped half a million people, and set a global example for healthcare success.
Compliance success: how one psychiatrist navigated state prescribing laws  
When a university psychiatrist left to start another job, the school had difficulty finding a replacement provider. Because they couldn't find anyone local, they eventually asked Dr. Pelic, who lived four hours away in Charleston, SC, to provide care over telehealth. South Carolina's state regulations prevented him from prescribing Schedule II medications for attention-deficit hyperactivity disorder (ADHD) and anxiety. Because there were students who had previously been prescribed these medications—but now had no way of getting them—Dr. Pelic requested a waiver from the state medical board. They denied it. He then took his case to the state capital in Columbia, where the waiver was approved.
Understanding how providers have been able to grow their telehealth program (often during times of significant change) can help others understand how to build a sustainable telehealth program.
Technology will continue to change
Technology is constantly evolving, and its effect on healthcare goes far beyond telehealth. With wearable technology and artificial intelligence becoming more common, patients are beginning to expect more than just in-person visits from their healthcare providers. 
"Telehealth has become healthcare," said Dr. Welch. "It is part of the standard way of providing care."
Where to find Telehealth Success
Telehealth Success is already a best seller on Amazon and is available in print, eBook, and audiobook formats. Interested in using this book for a course? You can get a discount when ordering in bulk for courses. 
Beyond Telehealth Success 
For Dr. Welch and Dr. Joshi, this book is only the beginning. Doxy.me's blog, Inside Telemedicine, will continue to offer relevant resources for anyone wanting to build a successful telehealth program. 
About Brandon M. Welch, MS, PhD
Brandon M. Welch, MS, PhD, is an NIH-funded researcher, innovator, and CEO of doxy.me, a leading telemedicine software company used by over 1 million providers worldwide.
Dr. Welch holds an MS in Human Genetics from Tulane University and a PhD in Biomedical Informatics from the University of Utah. He is also an associate professor at the Medical University of South Carolina.
About Aditi U. Joshi, MD, MSc
Aditi U. Joshi, MD, MSc was involved with telemedicine well before it exploded into the public consciousness: in 2013 she became Doctor on Demand's Assistant Medical Director, then led one of the largest telemedicine programs in the country as the Medical Director at Thomas Jefferson University Hospital. 
Today she helps healthcare organizations integrate technology into their clinical practice, and works on telehealth reimbursement, regulatory policy, and advocacy.